Plastic optical component
With the PolyPhotonics Berlin technology platform, a new technology is emerging on the world market alongside the established semiconductor or glass-based platforms, which is superior to the established solution approaches in many respects. The entrepreneurial vision of the alliance is to become the world leader in polymer-based integration technology and, in addition, to open up and make this platform available to other technology platforms, thereby opening up new fields of application, e.g. in medical or environmental technology.
The PolyPhotonics-Berlin technology platform represents a hybrid-optical construction kit, with which optical basic elements can be integrated to complex and extremely compact functional components for applications in the area of telecom/datacom, sensors and analytics by means of suitable technologies. We are looking forward to your ideas, please contact us.
sponsored by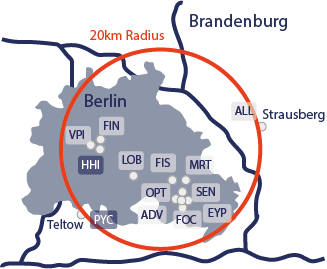 The Polyphotonics Berlin alliance consists of eleven companies and three research institutions from the Berlin Brandenburg region and has been working from
September 2016 until August 2020

.

Adtran is a global communications technology provider with a leading market position in the "Ethernet Access" and "WDM" segments.
www.adtran.com
ADVA Optical Networking ist ein weltweit tätiger Anbieter von Kommunikationstechnik mit einer führenden Marktposition in den Segmenten "Ethernet Access" und "WDM".
www.advaoptical.com
FINISAR Corp. is a global technology leader for optical components and subsystems. Finisar Germany develops and manufactures competitive products for test and measurement equipment and optical communication applications based on its advanced technology in Berlin.
www.finisar.com
First Sensor AG is one of the leading providers in the field of sensor technology. Our company develops and manufactures standardized and customized sensor solutions for applications in the growth markets of Industrial, Medical and Mobility.
www.first-sensor.com
FOC-fibre optical components GmbH develops and produces passive optical components that meet the highest customer requirements.
www.foc-fo.de
Loptek offers a wide range of fiber optic products. These include classic fiber optic products such as optical fibers, cross-section converters and vacuum feedthroughs, as well as medical probes and fiber optic sensors for temperature and strain measurement.
www.loptek.de
micro resist technology GmbH develops and produces special liquid photoresists and materials for conventional patterning techniques using UV, electron beam and X-ray lithography, as well as for nanoimprint lithography.
www.microresist.de
Chembio's core know-how is optical packaging and interconnect technology.
www.chembiogermany.de

SENTECH Instruments develops, manufactures and distributes worldwide high quality instruments for plasma process technology (ICP RIE, (IC-)PECVD, (PE)-ALD), thin film metrology (ellipsometry, reflectometry), and for photovoltaics.
www.sentech.com

VPIphotonics is engaged in the development, marketing and support of software and services for the design, analysis, optimization and control of photonics applications (especially in the field of telecommunications).
www.vpiphotonics.com

The Fraunhofer Heinrich Hertz Institute (HHI) works in application-oriented public research projects and on behalf of industry in the fields of communications technology (photonic and mobile networks, photonic components), optical sensor technology, and imaging technologies.
www.hhi.fraunhofer.de

The research area for polymer materials and composites PYCO at the Fraunhofer Institution IAP develops highly crosslinked polymers for applications in a wide range of industries, in particular for transportation technology, instrumentation technology, and information and communication technology.
www.iap.fraunhofer.de
Promotion of applied research in the field of laser technology
www.lzh.de